"WE AFFECT SOCIETY THROUGH EXCELLENCE IN PATIENT CARE, RESEARCH AND INNOVATION. HOWEVER, OUR MOST SIGNIFICANT IMPACT IS THROUGH EDUCATION ..."
-- Carl L Nelson, M.D.
January 12, 2005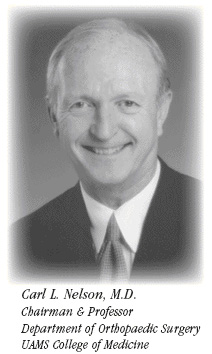 A surgeon, a teacher, a scientist, a mentor - Dr. Carl Nelson was all of these and more. The loss of Dr. Nelson will be deeply felt not only at UAMS but throughout Arkansas, his adopted home for the last 30 years. Hundreds of doctors and thousands of patients owe a debt of gratitude to Dr. Nelson for his guidance and devotion to providing services of the highest quality. His surgical skills were equaled only by his dedication to training the doctors of tomorrow. Above all, he was a friend, and his lively spirit will be greatly missed.